Specs and Info
​Dimensions and Combinations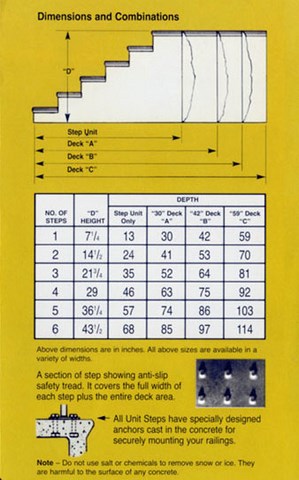 Unit Steps are manufactured in our plant to exact measurements and are properly cured to a smooth, pearl-like finish for unmatched beauty and a lifetime of no maintenance. Install a Unit Step and forget it... except when visitors comment on your good-looking entrance!
Many Unit Step customers install small units themselves. Others prefer relying on our experience and special equipment for quick installations that assure complete satisfaction. Either way, your Unit Step can be used immediately; no waiting for forms to be built or concrete to harden.
All Unit Steps have specially designed anchors cast in the concrete for securely mounting your railings.
Riser Step Information:
Click here
.
Size: (height, width and depth)
​Call us Today for a Free estimate.
---
Compare prices and quality and see why since 1939,
more people have chosen Unit Step.
Phone Number
716-731-3239
​
---